A Change Of Pace: Melges 20 Worlds
After the two days of ultimate Southwest Newport breeze, the third day of the Melges 20 World Championship saw warm temps, dawned sunny skies, but no wind.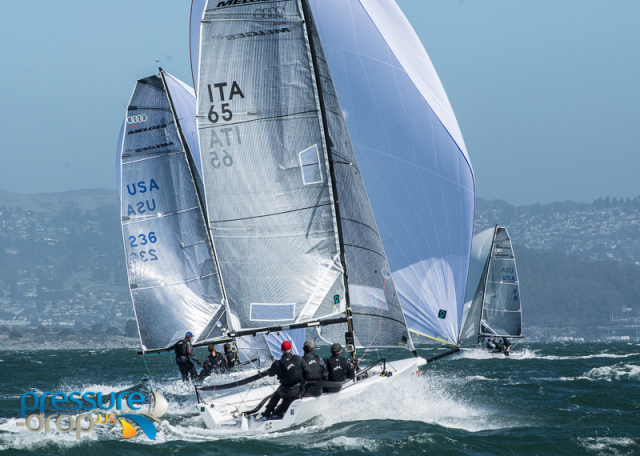 When sailors reached at the Sail Newport to start their preparations, the glassy water of the sea was tempting for water skiing. A lengthy morning rescheduling gave the way to one light air Melges 20 World Championship race, one more time shuffling the standings with one final day to go.
At 09.00, the PRO of the event Peter 'Luigi' Reggio made the announcement that the AP would be lifted and the next announcement will be made by 11:30, which gave 20 sailors Melges some time to get relax check out the best coffee shops of Newport.
After a long delay in the scheduling of the event, the fleet once again assembled at the Course Alpha at around 2:00 p.m. to start the event. The light air on the beach was a big change of pace as the third day proved important in the overall standings. Drew Freides' Pacific Yankee started the with the lead of 9-point over the John Kilroy, the two-time World Champion on SAMBA PATI, while many other contenders in the race remained ready to jump on the any opportunity to advance. In spirit, Pacific Yankees and Freides were marked men.
Once they move to the racing area, Reggio took the benefit of the wind on the course, dropped the marks and got the sequence under way. Jason Michas and MIDNIGHT BLUE his team nailed the start really close to the pin, sagged onto port and did not look back, which lead to a wire-to-wire in challenging, light conditions. Alessandro Rombelli the Race Six winner on STIG challenged for the lead and secured the second position, while Vladimir Prosikhin of NIKA sailed wonderfully and grab third position in his brand new Melges 20.